Things to consider when describing your electronic product's features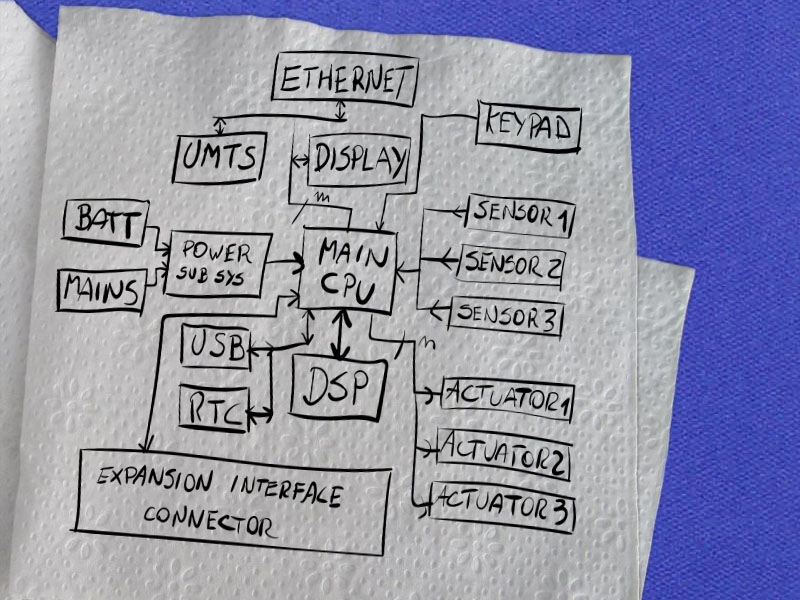 by Patricio Cohen, Electronic Design Engineer
You have got an idea and need a custom designed PCB. Excelent, now what?
Once you have decided that you need a custom board for your product, you need to describe your product features so you can get a quote. Questions that are important to answer prior to getting a quote:
1.- What is your approximate budget?
As with any product idea, it's important to have a business plan so you can have a clear insight of the target market where you want to put your new product and to know how much you need to spend in all the development stages. When making your business plan you will find out the market value that your new product should have and also you will define the maximum profit you can expect to get from it. With these two variables defined, you can have an idea of how much you want to spend for the development stage. This is the budget available for development stage, where electronic and mechanical design is included.
You will be asked for an approximate budget for electronic design, so we can quickly tell you if the project can be carried out or not with those available resources. Or suggest you based on your budget the alternatives you may have to make your project a reality.
2.- What is the system going to do?
A brief description of the product features will be necessary for getting "the big picture". Some examples could be:
For a "Custom VoIP speaker-phone with pH monitoring board":
The system must connect to a SIP server and initiate a voice call to a fixed URI once a button is pressed.
If the button is not pressed the PCB is in an idle state or in a low power mode.
The speaker and microphone must be connected to the board.
After the called subscriber finishes the call the system must return to its idle state.
The PCB must monitor two 2 pH sensors continuously every 1 hour and send a batch of 24 measurements once a day to a web server.
For a "Custom industrial sound intensity analyzer":
The PCB must monitor in real-time when a sound tone at a defined frequency exceeds a certain level.
When the level is exceeded it must report the event to a web server via https and activate a relay for 1 minute.
When the level is not exceeded, a lamp must be turned on and off at 0.5[Hz].
It must have a web-based interface where the history of events is available as a table.
It is almost a certainty that an engineer will contact you to gather more detailed information. But for now "the big picture" is enough.
3.- How it will be powered?
Here you will define how the system is going to be powered. For low power systems where batteries are used, the time between charges is a very important parameter.
Some power options are:
Batteries (you must specify the time between charges)
Mains line (110-220) or other
12 to 48VDC input
1KVDC, etc.
4.- Where will it be used?
This describes if the system is going to be used in a standard consumer electronics or in an industrial/military environment.
Some examples are:
The system will be operated in an industrial environment

Lots of dust and humidity
Lots of electromagnetic noise
Temperatures in the order of 90°C

Standard commercial electronics environment
5.- Are there any shape, size, volume and/or weight requirements?
Almost all electronic PCBs or boards must be placed inside an enclosure. So if any shape, size, volume and/or weight restrictions must be considered for the hardware, they must be defined from the very beginning.
Conclusion
After these basic questions about your product features are answered, should any doubts arise, we will contact you to clarify them. Once everything is clear we will send you a free quote for your project.